/
/
Aonang Elephant Sanctuary
Please contact-us before to make a booking for the dates regarding the Covid situation.
Aonang Elephant Sanctuary
Retired elephants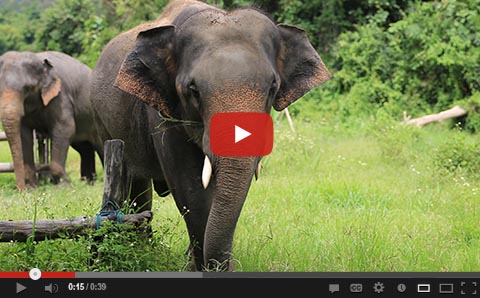 Time: Morning: 08.00 - 08.50 , Afternoon: 13.00 - 13.50
Here at our sanctuary, we organize the gentle care of old and retired elephants that have been rescued from elephant riding camps or logging industry for work purposes.

Mostly, the elephants that have been rescued are old and retired. They are no longer be able to work anymore in the tourism industry or logging industry.
Then we came up with the question "where those old elephants would go after?" the possible answers wouldn't be so impressive. As the elephant is the sacred and national animal of Thailand, we see this problem becoming an alarming issue across the country.
By establishing the Aonang Elephant Sanctuary, it is our aim to actively work as part of the solution, to rescue and provide a natural living environment for elephants, and to ensure they have enough food and a decent living standard in their sunset years.



2500

THB

/ pers

Half-day elephant discovery
We show you the ways to take care of those elephants by our tour guide and elephant caretaker including feeding, cooking for supplementary food, take them to play and reduce their heats in the mud and enjoy bathing with them in the pool.

We invite you to come and play an important role in helping this majestic and endangered mammal's future and enjoyable new life as we work together as a team. We provide experiences for you to touch, cook, feed, and bathe with the elephants.
If you are interested in joining us and being part of our community
Program Aonang Elephant Sanctuary ::
Pick up from you accommodation by minivan
Drive approximately 30 minutes from your accommodation to our sanctuary
Arrive at Aonang Elephant Sanctuary and meet with our tour guide who will provide you introduction of Aonang Elephant Sanctuary
Meet, get to know, interact, cook protein ball and feed the elephants and get muddy with elephant in mud spa pond surrounded by mountain and forest view at our sanctuary
When it's time to bathe the elephants, you will walk together and lead them alongside the river to the larger manmade pool-and if you're lucky you might even get splashed with their trunks.
Take photos group with elephants and get some seasonal fruit, coffee or tea then say good bye to the elephants
Leave Aonang Elephant Sanctuary with pleasure to your accommodation safely
BOOK YOUR VISIT
Adult :: ฿2500 , Child :: ฿2000
Date ::
Qty ::
* Child between 4 and 10 years old

Instant booking

Best price guarantee

Local agency in Thailand

Secure payment