/
/
Elephant Jungle Sanctuary Phuket
Elephant Jungle Sanctuary Phuket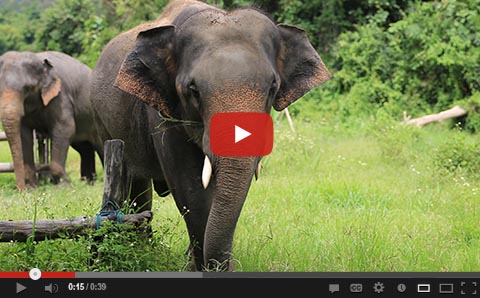 Time: Morning: 6:30 - 7:30 | 12:00-12:30 , Afternoon: 11:30 – 12:30 | 17:00-17:30
If you are looking for an experience like no other in Phuket Thailand, then you need to visit Elephant Jungle Sanctuary Phuket!
Located deep in the jungle, you can experience life with the elephants like very few visitors will ever have the opportunity to.

Enjoy an experience far from the city, in a small group at the heart of the jungle, and discover the world of our local camp!
Elephant Jungle Sanctuary is an ethical and sustainable eco-tourism project.
Special price

2900

2750

THB
Unique elephant experience in Phuket
The first sanctuary was founded in August 2008 in the area of Chiang Mai after concerns were raised for the local population of elephants and the good experience of the camp in Chiang Mai.
Elephant Jungle Sanctuary Phuket has follow and is specialized in looking after injured and mistreated elephants which have been rescued from all areas of Thailand.

The activities and packages are depending on which part of the year you visit the Elephant Jungle Sanctuary and also the current needs of the center.
In any case, there are a variety of different activities to choose from ! Anyway we propose a half-day visit in the morning or in the afternoon.
Program Elephant Jungle Sanctuary Phuket ::
Pick up from your hotel in Phuket
Depart in our vehicles to arrive at our sanctuary
Educational video about our work, while drinking tea and coffee
Assist with the preparation of natural dietary supplements for the elephants
Meet and feed the elephants, interact with them, take photos
Feed them and give them the dietary supplements
Walking with the Elephants, Observation as the elephants roam, bathe, play and socialise naturally
A delicious vegetarian Thai buffet lunch at our Tree Top Observation Platform with time to rest, relax and enjoy the tranquility and beauty of our sanctuary
Complimentary filtered water, coffee, tea, and soft drinks
BOOK YOUR VISIT
Child :: ฿1900
Date ::
Qty ::
* Child between 4 and 10 years old

Instant booking

Best price guarantee

Local agency in Thailand

Secure payment
Other amazing sanctuaries in Phuket