/
/
Elephant Jungle Sanctuary halfday
November 16th morning fully booked
Elephant Jungle Sanctuary halfday
Activities: Learning - Swimming and Washing - Feeding - Mud Bath - Caring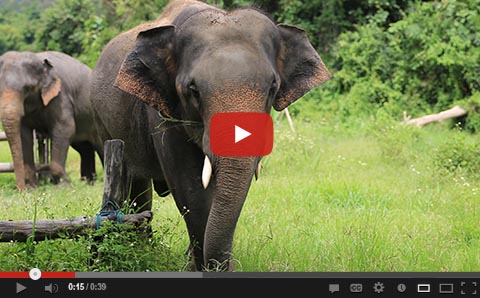 Time: Morning: 06.30-07:00 | 13.30 , Afternoon: 11.30-12:00 | 18:30
Book the full day experience here
If you are looking for an experience like no other, then you need to visit Elephant Jungle Sanctuary! Located deep in the jungle, you can experience life with the elephants like very few visitors will ever have the opportunity to. Enjoy an experience far from the city, in a small group at the heart of the jungle, and discover the world of our local camp! Elephant Jungle Sanctuary is an ethical and sustainable eco-tourism project. The sanctuary was founded in July 2014 in the area of Chiang Mai after concerns were raised for the local population of elephants. The Karen Hill-Tribes and Chiang Mai locals are joining to come up with a solution to help maintain the healthy population of elephants located throughout Thailand. Elephant Jungle Sanctuary specializes in looking after injured and mistreated elephants which have been rescued from all areas of Thailand.
Special price

1900

1850

THB
100% ethical camp
This is a no riding camp, we try to respect our elephant and hope to share with you our passion!
Spend a full day at Elephant Jungle Sanctuary will give you the opportunity to interact with Elephants in their natural home. You will learn how to understand them and see how they live by feeding them or by taking a bath.
You will be picked up from your place of accommodation in the morning, and travel to the Karen village and Sanctuary surrounded by beautiful agricultural countryside of Northern Thailand. When you arrive at the Elephant Jungle Sanctuary, an English-speaking guide will walk with you through the adjacent Karen village, and teach you a little about elephants and the local way of life. Get changed into traditional Karen clothing, listen as your guide tells you more about the Sanctuary, grab some bananas and sugar cane for feeding, and you will be ready to meet the elephants!

In small groups, you will meet and interact with each of our friendly elephants.
Once you have met and spent time with each of the elephants, you can retire to a relaxing platform overlooking a picturesque river and jungle. There, you will enjoy a delicious lunch of traditional Thai food and fresh fruit, before being re-united with your elephant friends. you will have the opportunity to bathe and brush the elephants while they enjoy wading through the water. Next, it will be time for a therapeutic mud spa. Feel free to get muddy as you cover the elephants in a protective layer of mud. Have fun playing with them and watch as they joyfully frolic in the mud spa.
Program Elephant Jungle Sanctuary halfday ::
Pick up at Your Hotel or Meeting Points
Cross Chiang Mai Countryside, through Rural Rolling Hills, Forest and local Farming Areas.
First introduction about habits and history of Asian Elephants
Meet the Elephants and take your time to play and feed them !
Lunch: Buffet of Traditional Thai Food
Go to the River with the Elephants to take a bath and swim with them
Mud Spa for everybody!
Change clothes and walk back through the Karen Village.
Back in Chiang Mai.
BOOK YOUR VISIT
Child :: ฿1500
Date ::
Qty ::
* Child between 4 and 10 years old

Instant booking

Best price guarantee

Local agency in Thailand

Secure payment